I.E. Schifalacqua, DPM
Podiatrist in Wyomissing, PA
Berkshire Podiatry Center, Ltd
DABPS, FACFAS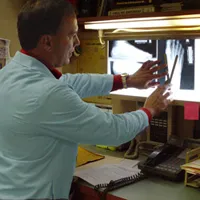 "I probably get the greatest feeling of satisfaction from my profession by sharing my knowledge of podiatry with patients and colleagues. I try to reach out to people who may be living with foot discomforts. I want them to know that there are effective treatments for lifelong pain relief."
An extensive education to gain your confidence.
"I've never stopped my pursuit of education. I finished my work towards my podiatry degree and have expanded my podiatric knowledge through continuing education courses. These courses allow me to offer you leading-edge methods in treatment and prevention."
Undergraduate: Bachelor of Science (Cum Laude), Biology, 1978, East Stroudsburg State College , East Stroudsburg, PA
Graduate: Doctor of Podiatric Medicine, 1982, Pennsylvania College of Podiatric Medicine, Philadelphia, PA
Podiatric Medical/Surgical Resident: St. Joseph's Hospital, Philadelphia, PA
Foot and Ankle Surgery Resident: Chief Resident, Podiatric Surgery, St. Joseph's Hospital, Philadelphia, PA
Continuing Education: Laser Surgery, Orthopedic Pathology, Arthroscopic Surgery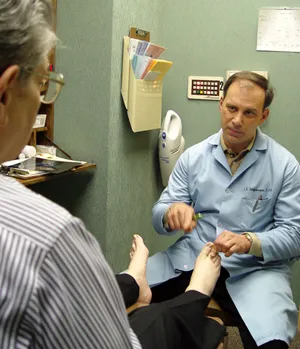 In touch with progressive podiatry.
"Through my memberships in various podiatric organizations, I'm constantly learning. I can pick up information about a new surgery technique or preventive foot care. It really helps me to provide the kind of individual treatment you expect."
Diplomate: American Board of Podiatric Surgery
Fellow: American College of Foot and Ankle Surgeons
Professional Organization Memberships:
Berks County Podiatric Society (Past President; Secretary/Treasurer)
Member: National Guild for Health Care Providers of the Lower Extremity
Active Staff Member:
St. Joseph Medical Center, Reading, PA
Reading Hospital and Medical Center, West Reading
Reading Surgery Center,Wyomissing
Spring Ridge Surgery Center, Wyomissing
Lecturer and Professor
Sharing information with students and colleagues.
"Part of my continuing education involves teaching and interacting with students and colleagues of my profession. As a professor, I reinforce the podiatric basics. When I speak to my peers, I am confronted with questions about new techniques and methods of treatment. Teaching and lecturing keep me on top of current events in podiatry."
Teaching Appointments: Instructor, Department of Surgery, Temple University School of Podiatric Medicine, Philadelphia, PA
Professional Presentations:
"Soft Tissue Ankle Injuries," Traumatology
"Digital Fractures," Achilles Seminar, Philadelphia, PA
"Heel Surgery," Continuing Education Series, Pennsylvania College of Podiatric Medicine, Philadelphia, PA
"Postoperative Fever," Achilles Seminar, Philadelphia, PA
"Surgical Management of Plantar Heel Spurs," Foot and Ankle Institute Seminar, Philadelphia, PA