DABAFS, DABPS, FACFAS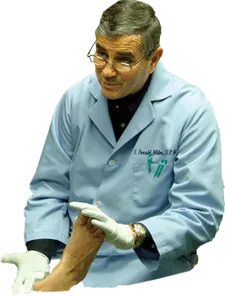 "Most people don't realize how important it is to keep their feet healthy. Even more people would be surprised to know that the body's overall well-being depends largely on the feet. I really feel I've helped someone if I can correct their foot problem and lend guidance in sustaining their podiatric health."
Education and experience that you can depend on.
"I've dedicated many years to the development of my educational background. But my education was just the beginning of my professional career. I've also been a practicing podiatrist for 30 years. In that time, I've kept up to date with the latest techniques in treating foot problems and maintaining podiatric health."
Graduate: Pennsylvania College of Podiatric Medicine, Philadelphia, PA, D.P.M., 1972
Postdoctorate Examination: Diplomate Examination, American Board of Ambulatory Foot Surgery, 1976
Extraordinary participation in the podiatric profession.
"I make an extra effort to stay active in my profession. I've found that interacting with my colleagues keeps me alert to new developments in podiatry."
Board Certification:
Diplomate
American Board of Ambulatory Foot Surgery Diplomate
American Board of Podiatric Surgery
Fellow: American College of Foot and Ankle Surgeons
Professional Organization Memberships:
American Podiatric Medical Association
Academy of Podiatric Sports Medicine
Academy of Ambulatory Foot Surgery
American Analgesia Society
Pennsylvania Podiatric Medical Association
Berks County Podiatric Society
Active Staff Member:
Reading Hospital and Medical Center
West Reading
Reading Surgery Center
Exeter Surgery Center, PA
Lecturer and Professor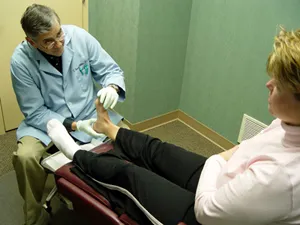 Honored by colleagues and peers.
"I'm proud to have been recognized by other podiatrists who have my utmost respect."
Listed: Who's Who in the East
Recipient: Pennsylvania's "Podiatrist of the Year" Award
Serving the community over the years.
"Since 1973, I've been involved in many community organizations. It's my way of supporting my hometown. There's always time to spend giving to others."
Board of Directors:
Paul Harris Track and Field Club
Northeast Reading Rotary Club
Board of Advisors: H.E.L.P.
President/Vice President:
Northeast Reading Rotary Club
Reading Community Players
President:
Pennsylvania Podiatry Medical Association
Berks County Podiatry Society